PlayMetrics is youth soccer's first all-in-one Club Operating System, unifying your entire club management workflow in one easy-to-manage hub. PlayMetrics helps you manage daily projects and tasks all in one centralized location, allowing everyone in your club to collaborate, communicate, share best practices, and remain on the same page like never before. In PlayMetrics, every person in your club has their own unique account with access to the features that matter most to them.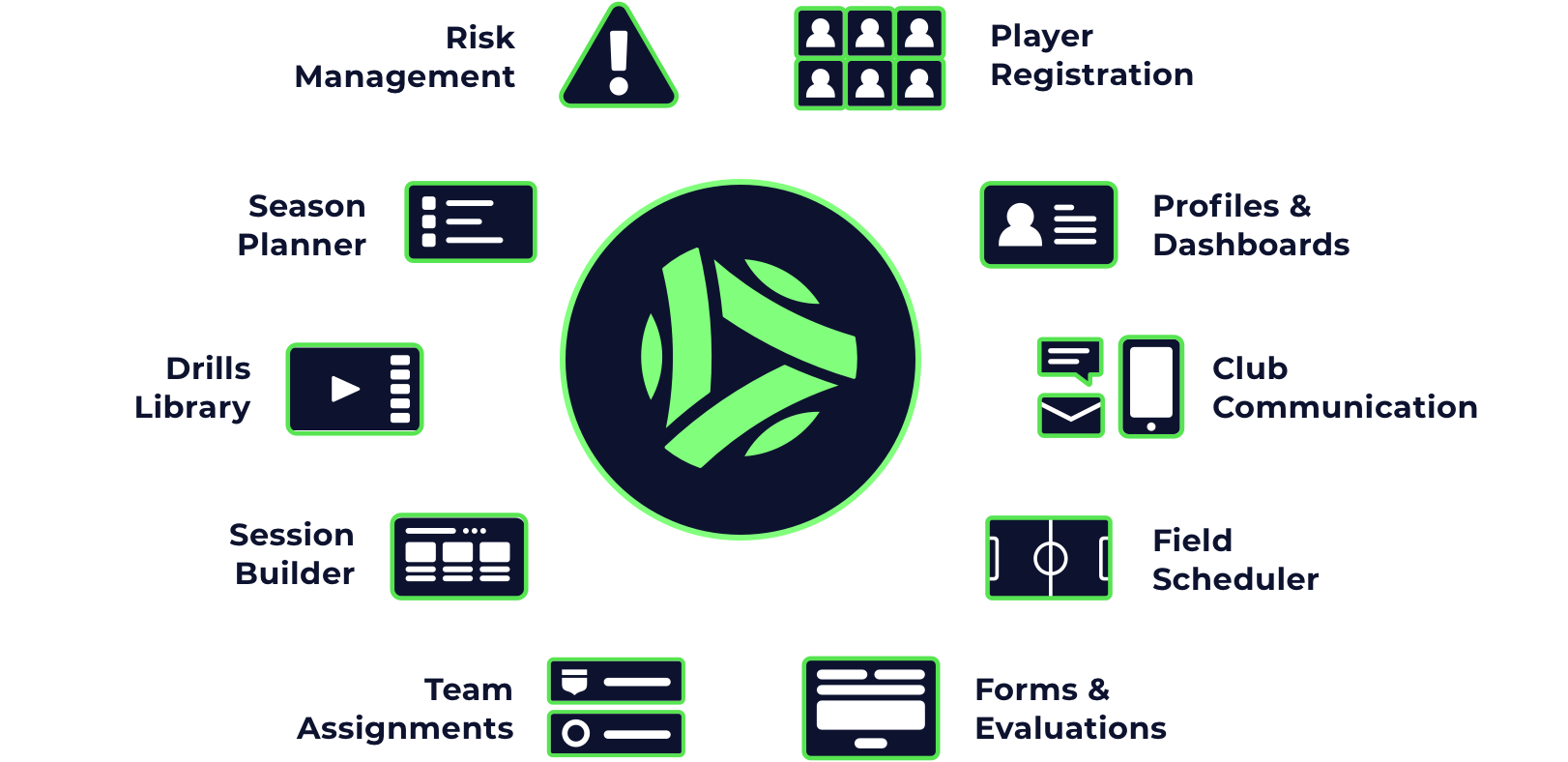 With everything in one place, you can find information faster, you have more insight into important activities happening throughout the entire club, staff members are able to connect more freely, and many time-consuming tasks become automated.
Not a PlayMetrics customer yet? Fill out our Demo Request form and we will show you what you're missing!
Account Types & Roles
Directors, Administrators, Coaches, Program Administrators, Team Managers, Player Contacts (parents and family members), and Players each have a dedicated account type in the PlayMetrics Club Operating System. While each role has access to different PlayMetrics features, all members are able to use the Communications tools for messaging and notifications. See below for examples of how these account types utilize PlayMetrics.
Directors: Establish season-long curriculum and training guidelines, oversee program financials, assign teams and manage rosters, request and track progress on forms, monitor how coaches are implementing training philosophies, and more. Click here to see more about PlayMetrics for Directors.
Administrators: Create and manage club programs, oversee registrations, manage payments and refunds, assign teams and allocate rosters, organize and maintain club files and storage, set the field schedule for the year, update field plans and notifications, create form templates and oversee form tracking, manage player and staff profiles, and more. Click here to see more about PlayMetrics for Administrators.
Coaches: Organize weekly and daily training sessions, build custom drills or use pre-loaded Drills Library, message teams, plan games, review depth charts, track attendance, complete forms, and more. Click here to see more about PlayMetrics for Coaches.
Team Managers: Manage team calendars and events, update game scores and schedules, set and revise player attendance, build itineraries for travel events, organize team files, alert team members to news and updates, and more. Click here to see more about PlayMetrics for Team Managers.
Parents / Players: Register for club programs, manage payments, revise player profile info, check team schedules, update coaches on player attendance for practices and games, review previous and upcoming training plans, view games scores, chat live during games, communicate with Team Manager and/or Coach, and more. Click here to see more about PlayMetrics for Parents & Players.
For more, see "Understanding Account Types & Roles."
PlayMetrics Features
PlayMetrics has something for everyone, connecting your entire club on and off the field with powerful, simple-to-use features. View our list of features here, take a video tour of the Club Operating System here, or watch the brief overview video below.
Getting Started With PlayMetrics
Once a club begins working with PlayMetrics, our Customer Success Onboarding Specialists will work with your staff to customize the system to your needs. You will also gain exclusive access to our knowledge base and how-to videos to ensure all club members are getting the most out of PlayMetrics.
Registering with PlayMetrics
In order to make a new PlayMetrics user account, 1) your club must be a customer and 2) you must be invited by your club. When you are invited, you will receive an email with a link to create a new account on PlayMetrics. Simply enter your email address and create a password to access your new PlayMetrics account. See "Registering with PlayMetrics" for more.
PlayMetrics on Mobile
PlayMetrics offers free mobile apps for both Apple and Android users. See "Adding the PlayMetrics app to your mobile device" for download instructions.
Customer Support & Help Center
PlayMetrics offers 24/7 customer support through our Help Center & Knowledge Base. You can also email support (support@playmetrics.com) or contact your Customer Success representative if you are an existing customer club.
Partner Clubs & Testimonials
We are proud to work with clubs all over the world, each with unique needs, goals, and structures. Below are just a few example reviews from our partner clubs. If you'd like to learn more, just fill out the Demo Request form and we'll get in touch with you directly.
"PlayMetrics has just completely transformed how we do business. And I can't say it any better or clearer than that." - Gary Buete, CEO, NCFC Youth
"I just spent the weekend making our fall season training schedules for all of our teams. As with everything else we've been doing with PlayMetrics this experience was such an amazing and pleasant one that I wanted to let you guys know. We are so happy with how everything is going and I couldn't speak more highly of your company. I am continually impressed with your customer service and the quality of the product. Thanks again!" - Karl Ostrand, Director of Operations, Sporting Omaha FC
"We are thrilled to partner with PlayMetrics to provide our club with a platform that we feel is the best product in youth soccer. We took quite a while to seek out potential platforms through our period of due diligence, and PlayMetrics checked all the critical boxes. Providing players, parents, coaches, and directors with a platform that improves not only communication, but overall efficiency in what we offer as a club was of paramount importance." - Kevin McCloskey, Chief Operating Officer, Kings Hammer Soccer Club
"With PlayMetrics, we collaborate, communicate, and organize sessions all in one, centralized portal. They are truly a forward-thinking organization." - Teddy Chronopoulos, Academy Director, Pateadores
"The PlayMetrics Club Operating System helps us achieve our mission to provide a full range of youth soccer opportunities for all ability levels in an even more efficient, effective, and collaborative club environment. As the club continually evolves, it's very important that we self reflect on our daily operations and review how we can better serve our members and coaching staff. By integrating with PlayMetrics it will elevate our operating procedures to a higher level of performance." - Don Gemmell, Technical Director, Houston Dynamo-Dash Youth